Are you looking for a strategy to improve your website's health and help it appears higher in the search engine ranking results in Australia? In that case, a technical SEO audit can be the best choice. It ensures that your website uses the latest industry best practices for SEO. It provides valuable insights into your website's performance, allowing you to identify areas that need improvement and ensure you are up-to-date with the latest SEO trends.
What is a Technical SEO Audit and Why You Should Have One
Technical SEO is a vital component of a digital marketing strategy. While content and link building is important, Technical SEO ensures your website has the best possible visibility on search engine results pages (SERPs).
A Technical SEO consultant considers all aspects of your website's performance and structure, making sure your website is technically sound, from the code and the way content is organized to how quickly pages can be loaded and crawled by search engine bots.
It checks for indexing issues, page loading and site speed up, broken links, canonicalization issues, duplicate content, structured data, and mobile-friendliness. Having an audit performed regularly can help you gain more visibility in organic search and maximize the return on investment. Keeping your digital marketing competitive and successful in an ever-evolving landscape requires ongoing optimization. 
How to perform a technical SEO audit in eight steps

1. Analyse the Website's Architecture:
Check if the website is structured properly and all pages are loading correctly by performing a complete crawl of the website.
2. Evaluate Indexability:
Ensure that all relevant pages are indexed, and identify any potential issues with indexing on-page seo issues such as duplicate content or no-index meta tags.
3. Review Internal Link Structure:
Inspect the internal links on each page to determine if they are optimized for both users and search engine spiders.
4. Examine External Links:
Analyze external links pointing to your website, as well as those pointing away from it in order to ensure optimal link juice distribution throughout the site or website's site seo.
5. Check Mobile Usability:
Test how easily users can access your website from mobile devices and make sure the mobile version of the site is optimized for search engines.
6. Analyse the Site's Page Speed:
Test how quickly all pages load and identify any potential issues that could be affecting loading times.
7. Analyze Content Quality:
Inspect all content in google search results, to ensure it is high-quality and relevant to the topic, as well as optimized for Google and Bing
8. Review Server Log Files:
Examine server log files to determine if there are any errors or other issues that need to be addressed in order to improve SEO performance.
After completing these eight steps, you should have a comprehensive overview of your website's health and be able to identify any areas that need to be improved.
Additionally, you should schedule regular audits as part of an ongoing optimization plan in order to keep up with the ever-evolving demands of search engine algorithms.
Overview of the Different Types of Technical SEO Audits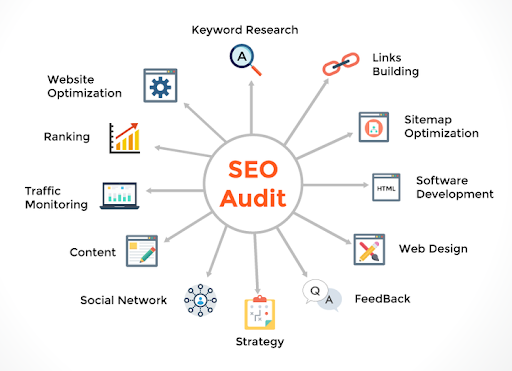 Website audits can be divided into the following categories:
1. Site Architecture Audit:
This type of audit looks at how your URLs and Nav menu are arranged and structured. It helps to ensure there is a logical flow between pages, which makes navigation easier for visitors and robots alike.
2. Code Quality Audit:
A code quality audit evaluates the cleanliness and accuracy of the source code used to build your website. This audit looks for things like deprecated code, coding errors, and slow-loading pages.
3. On-Page Optimization Audit:
An on-page optimization audit examines the content of each web page to ensure that it is properly optimized for search engine robots to crawl and index. It also looks at how well the page is formatted, which includes the use of heading tags and meta descriptions and other on-page factors.
4. Mobile Usability Audit:
A mobile usability audit evaluates how easily users can access and interact with your website from a mobile device. It checks things like page load times, responsiveness, and navigation menus to make sure they are optimized for mobile devices.
5. Performance & Security Audit:
A performance & security audit checks the overall speed and security of your website. It looks for anything that could potentially slow down the loading time or put users' data at risk.
Having audits performed regularly gives you the competitive edge needed to succeed in today's ever-changing digital marketing landscape.
Benefits of Having an SEO Audit Done Regularly
Having audits regularly performed can provide a number of benefits, including:
Increased visibility on SERPs and boost in organic traffic 
Greater ability to identify areas that need improvement
Improved understanding of the current industry best practices for SEO
Increased protection against any potential search engine penalties or 
Increased protection Search engines' rankings algorithm changes
Website audits provide valuable insights into how your website is performing, allowing you to identify areas that need improvement and make sure you are up-to-date with the latest 
What is involved in a Website Audit?
When performing website audits, there are several steps that need to be taken in order to ensure the most comprehensive assessment possible. Website SEO audit services will typically involve the following steps:
1. Gathering Technical Information- It involves collecting information related to a website, including crawling the website with tools like screaming frog, etc.
2. Specialized Analysis- The crawl, along with Google search console data and file logs are all analyzed to check for any issues or errors. This includes checking for any potential errors in the robots.txt file, which can block certain pages from indexing by search engines, and checking for any canonicalization issues or redirect chains
3. Technical Audit Report- The report will have a comprehensive overview of the website's SEO performance and a detailed report of all the issues found on the website.
4. Fixing Issues – Once the report has been reviewed, SEO optimization can begin. This will involve making any necessary changes to a website's code and URL structure.
Common Issues Revealed During Technical SEO Audits
These can reveal a variety of issues, including:
Poorly optimized content and meta tags
Slow page loading speed
Broken links or 404 errors
Duplicate content
Failure to comply with search engine guidelines
Lack of keyword optimization
Unstructured data or markup
Mobile-unfriendliness
These are just some of the most common issues that a webpage audit can reveal. 
What SEO tools do you use
As a leading SEO consultant, I use the following SEO tools
Screaming Frog SEO Spider  
SEMrush
Ahrefs
Moz
Log file analysers
Octoparse
SEranking
Surfer SEO
Pingdom
How to Analyze the Results of Your Technical SEO Audit
Once you have performed an audit, it is important to analyze the results and take action. This may include rewriting poorly optimized content or adding meta tags, optimizing for mobile devices, fixing broken links or 404 errors, improving page load speed etc. An SEO expert will provide on going recommendations to your Webdev team on how to best implement the fixes.
How long do SEO audit services take?
The duration of Technical SEO audit services in Australia depends on the size and complexity of the website being audited. It can take anywhere from a few hours to several days, depending on the number of pages that need to be analyzed and the issues that need to be addressed.
In any case, Technical SEO audit services should not be rushed; they must be done thoroughly and with attention to detail in order to produce accurate search results only.
FAQs
Why do I need a technical SEO audit?
It help identify issues on your website that can hinder organic and search rankings, crawling and indexation, causing your website to rank lower in organic search.
It also helps uncover potential optimizations you can make to improve the discoverability and visibility of your website.
What can common technical SEO issues be addressed through an audit?
Issues can include but are not limited to page load speed, indexing problems, metadata optimization, broken links and redirects, duplicate content, and canonicalization issues.
It can help diagnose any existing, technical issues on your website and provide practical solutions to address them.
What is included in a Technical SEO Audit?
A Technical SEO Audit in Australia includes an in-depth review of your website's technical structure and performance. It typically involve assessing the architecture of your website, diagnosing site speed issues, analyzing crawl ability and indexation problems, and ensuring that all proper optimization strategies have been implemented.
How can Technical SEO Audit Services benefit my business?
By conducting a Audit on your website, you can gain valuable insights into how it performs and identify any potential technical SEO issues preventing your website from reaching its full potential.
Technical SEO Audit Service can help improve your website's overall performance, maximize organic search visibility, boost user engagement, and increase conversions.
How often should I have a technical SEO audit performed?
It is recommended that these be conducted regularly, at least every 2 months. This will help quickly identify and address any issues before they snowball.
Regular audits also provide an opportunity to evaluate any new strategies and optimizations implemented since the last audit.
Why Hire a Technical  SEO consultant?
Technical SEO consultants and experts will have a thorough understanding of SEO and can offer workable solutions to complex SEO problem. They also understand how search engines work and how your website can best comply to their algorithms.
What does a technical SEO audit report look like?
The report should include a detailed overview of your website's SEO performance and identify any issues or areas for improvement. The reports typically contain information about the structure of your website and recommendations for improving usability and discoverability.
The report should also provide an actionable plan of steps to resolve any issues identified. Technical SEO Auditors should also be able to provide guidance and assistance in implementing the recommended solutions.
How long does a typical technical SEO audit take to complete?
An Audit typically takes 1-2 weeks to complete, depending on the complexity of your website. It can also be completed more quickly if necessary, such as in cases where quick action is required for an urgent issue or to prepare for a major algorithm update. Experienced Technical SEO consultants should have no problem completing the Audits promptly.
How much does a technical SEO audit cost?
The cost of Technical SEO Auditing Services In Australia and Melbourne can vary depending on the scope and complexity of the website. The total cost will also depend on the hours required to complete the technical site audit. The cost starts from $500 and can go upto $8000 for enterprise level sites with millions of pages.